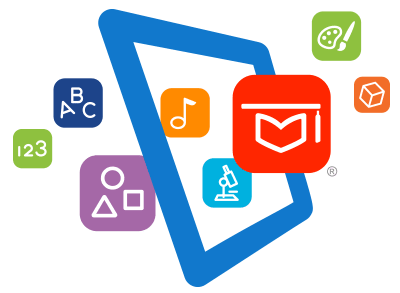 Curriculum
What we teach at Clawton Primary School – Helping you understand what we use to help your child learn… 

In the Early Years Foundation Stage and Key Stage One we use Letters and Sounds as a basis for our Phonics teaching.
Our reading books are based around a variety of different schemes and they are levelled according to the Colour Band Programme. Alongside these readers we have a selection of phonic based books in the EYFS and Key Stage One and each class have their own wider books as well as a school information library.
Children are expected to read every evening at home and have this recorded in the Home School Reading Contact Diary.
Books for your child -click here          
Please click on the link below to find out more about the New National Curriculum
Our Curriculum Outline is on display on this page and the class pages will give a brief of what will be taught …
The teachers use the outline below to plan their lessons for the children. Their planning can be viewed on the Class Planning pages and is updated as required.
ENGLISH: including spelling, punctuation and grammar
How do we develop as writers at Clawton School?
From EYFS to Year 6, we are incredibly passionate about our Literacy curriculum.  Our aim is to provide our children with a wide range of stimuli in their learning, from rich whole class texts, to WOW experiences to trips far and wide, and all with the intention of fully engaging and immersing the children into their learning!
Children in the EYFS are taught cursive writing from the very start and the use of pen is encouraged from that age. We want our children to become authors and poets and have a strong desire to always write. This also includes keyboard skills, as we have enough laptops for every child from year 2 to year 6.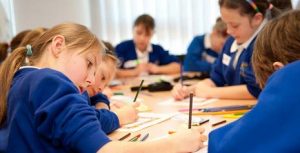 Cross curricular learning!
The foundation of all our Literacy learning is rooted in the whole school topics, which alternate across the year from History, to Geography to Science.
A vast majority of the topic learning comes through the literacy, as the children explore linked poetry, narratives, diary writing and more.  Each writing sequence has a strong emphasis on drama and role play, to allow the children the opportunity to bring the topic, and the Literacy, to life!
Trips and Wow Experiences                                                         
For each new topic, a WOW experience is always carefully planned, to ensure that there is a high impact beginning which captures the children's imaginations and interests.  Class and Key Stage trips are planned for each topic, to give the children the opportunity to really live the topics, and to serve as wonderful and real stimuli for writing back in the class room.
We include Dance and Music into these experiences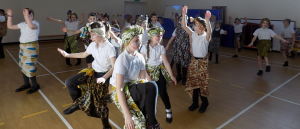 Whole class texts!
Across Key Stage 2, we have started to develop a range of whole class texts which are topic related.  These texts are carefully selected, and serve to further immerse the children in each topic, as well as giving the children excellent exposure to rich and varied vocabulary and language.  Because every child has a copy of the text, it ensures that every child is involved in the discussions and debates which inevitably occur when dozens of brains all evaluate and analyse plots, events and characters at the same time!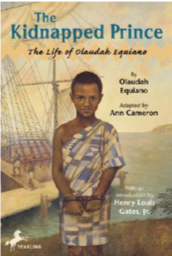 Across EYFS and Key Stage One we will use the interactive whiteboards and big books for the children to follow, enjoy and learn reading and writing.
In each class, the writing curriculum is displayed to give the children the 'big picture'. As a new writing sequence is begun, whole class discussions decide which of the writing curriculum elements are most relevant to the purpose and audience of the sequence, and by doing this, meaning and context is given to the specific grammatical and structural features needed to succeed in that particular style of writing.
Key Stage Productions!
Each year, tremendous effort is put into end of key stage productions, which are again linked to the topic of the term, and which offer incredible opportunities for children across all year groups to participate in productions that they will never forget!  Each year, the children amaze us all with what they achieve with their acting, orating, singing and dancing skills, proving that we never fully know the true potential of children unless we give them lots and lots of opportunities to discover them for themselves, and then to show us all!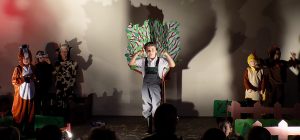 Wonder how you can help your child with their reading and writing?
Share and practise the termly spelling words, taken from the National Curriculum, which are given at the start of each half term.
Experience our parent workshops which are scheduled throughout the year to provide helpful and practical tips on how we teach and learn these key skills at school.
Read with your child at home – 5 times a week – and share their progress and key comments in the Home School Diary.
Click on the link for specific grammar terminology:
National Curriculum Grammar GLOSSARY
Borrow books from class book corners and the School Library.  Your class teacher will be pleased to recommend authors and titles.  Click on the links below for further information: 
http://www.lovereading4kids.co.uk/genre/5/5-plus-readers.html
https://www.oxfordowl.co.uk/for-home/find-a-book/library-page
https://www.thebookpeople.co.uk/webapp/wcs/stores/servlet/qs_home_tbp?storeId=10001&catalogId=10051&langId=100
http://www.bbc.co.uk/programmes/articles/4h26FXFQ4KfMV7VVSbJxY3g/500-words-2018
https://www.phonicsplay.co.uk/freeIndex.htm
https://www.theguardian.com/childrens-books-site
Some recommended authors…
Roald Dahl – https://www.roalddahl.com/
Dick King-Smith – http://www.dickkingsmith.com/
Michael Morpurgo – https://www.michaelmorpurgo.com/
Julia Donaldson – http://www.juliadonaldson.co.uk/Lauren Child – https://www.booktrust.org.uk/books/childrens-laureate/
If you would like more support and advice, please do not hesitate to ask your Class Teacher.  We're happy to help!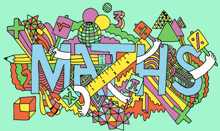 We seek to understand the value of maths across the curriculum and its application in a variety of contexts. We have started to teach maths in context because maths lives in context. Our topics give us incredible opportunities to explore the relevance of different areas of maths.
In maths we value explanation. Through this, our children are able to become more efficient, see concepts differently and are able to share their understanding with others.
At Clawton we encourage children to deepen their understanding by representing it in a variety of ways. We also strive to
choose efficient strategies in order to access some amazing concepts!
Some of our maths expectations are:
Working in context- using real figures whenever we can so we can always learn about our topic.
Writing in a pen as soon as possible. We don't worry about our mistakes and rub them out, we learn from them.
'Thought bubbles' to share our thinking with the teacher. How we came to an answer and what we thought along the way.
Working with others to improve our decision making.
Rulers and pencils for drawing, because presentation is a key to being accurate
Daily home learning in key stage 2. If it's not solved in ten minutes, your teacher will help you the next day.
We teach a progression of skills through our calculation policy. This is how we teach mathematical concepts to our children.
We put on maths workshops every year and you will be able to experience how we teach this exciting subject and see how we implement the concrete-pictorial-abstract model
The policy is here:
We encourage children to ask questions and ensure that they are taught the skills, knowledge and vocabulary required to explore and
answer these questions through discussion, research and
experimentation.
Each term all national curriculum elements are taught through a new cross curricular topic. This topic drives the rest of the curriculum and links with Science are made. In particular, key links with Computing, Maths, History, Geography and English have been embedded into the Science curriculum. Children are also given the opportunity to help shape their learning through elicitation of their current understanding and collection of their questions about the upcoming science topic.
The aims of teaching Science at Clawton School are: 
To develop confidence, scientific knowledge and conceptual understanding through the specific disciplines of biology, chemistry and physics.
To develop understanding of the nature, processes and methods of science through different types of science enquiries that help them to answer scientific questions about the world around them                             
To equip children with the scientific knowledge required to understand the uses and implications of science, today and for the future
Working Scientifically 
Working scientifically specifies the understanding of the nature, processes and methods of Science and underpins the teaching of Science at Clawton School. Working scientifically skills are embedded into the curriculum through the following lines of enquiry: 
observing over time
pattern seeking
identifying
classifying and grouping
comparative and fair testing (controlled investigations)
researching using secondary sources.